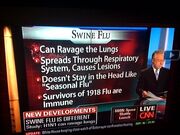 Episode for Thursday July 16, 2009
Show Notes
Edit
Ex-IBM Employee reveals TV Abandoned Analog Band to Make Room for RFID Chips
Monsanto Resurrects Efforts to Engineer Wheat
Al Gore rewrites history
U.S. House passes "hate crime" bill that Bush opposed
Choose a different trail than eminent domain
House bill to hit millionaires with 5.4 pct surtax
Lawyers claim ringtones are public performance
Cherie Blair 'suffering from swine flu'
Private contractors replacing troops in Iraq, Afghanistan
Crops under stress as temperatures fall
Holy water ban to halt swine flu
13 doctors say WMD mole did not commit suicide
Gore: U.S. Climate Bill Will Help Bring About 'Global Governance'
U.S. to Buy H1N1 Vaccine Components From Four Firms
Check out our site at NoAgenda.SquareSpace.com and get your own SquareSpace site at a 12% discount forever by using our code AGENDA on checkout.
Donate to the No Agenda Armory Today!
Other Links
Edit
Show Link:
Direct Download:
NoAgendaChat.com Episode Chat Log: