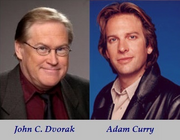 Episode for Saturday March 1, 2008
Show Notes
Edit
The new Beijing airport terminal; we need a road trip with shopping.
Snooty sommeliers, from paint thinner to Grappa.
Akamai and Limelight patent suits - commenters are poorly informed.
John's CBS Marketwatch column and Adam's "live and die by Comscore clicks."
We rant on Google - they control both the buy and sell side. Is Google dying?
Why didn't Google, Yahoo or someone else hire this guy? Non-compete?
Reader feedback. What the ...
Why are we (possibly) censored in Dubai?
Text messages and SMS delivery.
Do bank CEOs tell the truth? Bank stocks are down by half.
I said this in 1912, and I'm right! (Just for clarification)
Do we still make anything in America?
U.S. still awarding govt. contracts overseas.
Story of the week - "skin privileged", deciphering other PC code words.
Podcasting monetization and "grantsmanship."