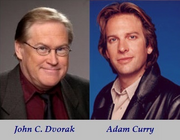 Episode for Thursday March 6, 2008
Show Notes
Edit
Ziff-Davis files for Chapter 11
User feedback, high tech tea abominations
Adam's liason with UK Govt. (The Tax Man)
This hour has 22 minutes
Wooden shoes? Nope. Hookers and dope.
Interlude: 1942 music by Sammy Kaye from "Iceland"
Interlude II: 2008 version with Google and DoubleClick
Internet advertising, Google issues and other annoyances
Would the world be different without Google?
The BRIC countries
John's secret elevator codes!
Will AOL and Yahoo get together?