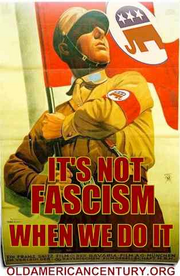 Episode for Saturday July 19, 2008
Show Notes
Edit
Gone for a week but not forgotten, it's time for No Agenda! Once the vacation, food and Bastille day in the south of France is over, we start with the iPhone 3G. Adam talks about his new toy, the Nokia E71. Sounds very cool. Is Adam a trouble maker? Mi5 will find out.
John decides to break down and get a subscription to the NY Times. No, not the online version. Could it be a matter of efficiency? What is the Chinese theory of marketing? Better pay close attention to that front page. Adam brings up the print industry business model and the shock. Let's fight about the future price of oil and speculators.
Adam drops the double jeopardy news bomb and John is quite interested in the developments in the EU. Don't leave your DNA anywhere, the Fascists will get you. We'll have to come up with a new term for Fascism.
Why is Larry King so interested in flying saucers? We just can't get away from these crackpots. Where are the good UFO pictures? Adam tells John, "watch this YouTube video on the Disclosure Project." John's take? This is one great marketing strategy for some new movies.
Segue into Viacom, YouTube and copyrighted content. Adam has some valid points on this subject. Will Sumner Redstone try to turn ISPs into police stations? OK, back to Fascism. We call on our listeners to come up with a modern, negative word to substitute.
Adam may host the Dr. Ron Paul "Rally For The Republic" in Minneapolis. Why must we go through a metal detector to go to a party for Prince?
The Adam and John Tinfoil Hat Company may soon release the official "aluminium" hat. How about a Faraday cage hat or an insert for a baseball cap? [Ed. Will John have to buy the patent from some Cage Match listeners?] Off we go into wacky RFID idea land and prank city, maybe we should just "productize." Adam brings up the coolest RFID product yet, the RFID pill and bluetooth reader.
John talks about the presidential election, where, in the EU, the winner is a foregone conclusion. He's not buying it. Neither candidate has even picked a VP yet, what sense does this make? And what is a "big box" company? There's nothing like a completely homogenous country. How about a conspiracy theory for the tomato and jalapeño scare?
A final note, pay attention to the names of stores run by ex-mobsters in the witness protection program.