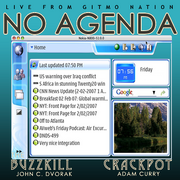 Episode for Saturday November 24, 2007
Show Notes
Edit
Missing UK Govt. records on CDs lost in interdepartmental transit is still front page
More news that won't go away - focused on 2 children out of billions
Nokia N810 - A great Wi-Fi tablet
What's up with Pakistan?
Launch of MSNBC, Princess DI and broadcasting -- insider's info
Retro Psycho Power?