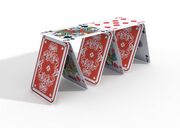 Episode for Saturday December 13, 2008
Show Notes
Edit
The Ponzi Scheme now revealed, to the tune of $50Bn - it's Bernard Madoff, former head of NASDAQ, the father of modern Wall Street.
What is a terrace house? Adam explains.
Global warming -- Guildford, Houston, N.O., Washington and the East Coast have the coldest start to winter in many years.
Want to buy some carbon credits? Have we got a deal for you, or you could join the lawsuit against the IPCC and Al Gore now!
We review the Slingbox, a thorn in the foot of the satellite and cable companies.
Women dominating the internet. Good grief! Now it's the onslaught of teenage nude pictures.
Let's get into netcast production values and (what?) hookers,
Rod Blagojevich (D) and Obama - any connections? What a fine public servant.
John and Adam wager on Obama's popularity next June 30. Any takers?
Off to the deli. What is linguisa? A good discussion of spices ensues, and enter the FDA.
Formula 1 is in trouble. $300Mn per team (with pilots) for a year and the industry wonders why.
Formula 1 this. Let's discuss the bailout for the entire car industry.
Adam brings up the Lisbon treaty, and the corruption therein.
Canadian listeners are honked. Can these two, er, netcasters, actually catch up on Canadian politics? Slingbox!
Goldman predicts oil to hit $30/barrel. An awkward U-turn after $200 prediction. John predicts $30 is within sight.
We've come full circle, more about Charles Ponzi.