Summary
[
]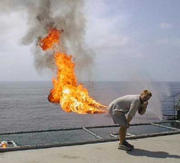 Episode for January 3, 2009
Show Notes
[
]
From Gitmo Nation East and West, it's time for No Agenda!
Adam has moved and set up a new studio, but KD's download (Windows Media) sound is distorted at the beginning.
Anyone else get better reception on downloads or real time play? Adam and John want to know.
Silent computers are cool, according to John.
Stock market questions from users.
More 'greener' whining about hydro power, a major contributor to global warming?!? Propaganda from the oil industry?
TV wants us to just eat oats. Green this!
The shifting of the 10 yr. oscillation of the Pacific current has arrived, so get ready for global cooling.
Don't go to Yellowstone, there are 100 quakes a day!
Zune bricked by leap second? Har.
How about a job with the CIA? Here's the commercial. Terrorist or Capt. Kirk? No problem.
The CIA and Gina - here's the (planted) story.
The Gaza conflict and journalism. What's the real story here, and which news source will you believe?
John lets everyone know about Bloomberg. Now let's hear about the new taxes.
Sell the States, one by one, we'll begin with Minnesota.
The never ending search for carbon credits. What's a tree worth in carbon credits?