Summary
[
]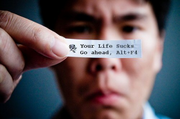 Episode for January 10, 2009
Show Notes
[
]
From a river of, er, uh... well, it's time for your weekly old guy gabfest, No Agenda!
Let's get started with the tradeshows and podsafe music. Hello ASCAP and BMI.
Gold album? Here's your CD with the plastic frame.
Adam gets invited to see the Queen - what, no calligraphy? The Queen is hip -- the RSVP is by email.
Will Adam record his visit via hidden mike? We wonder how tight security is.
Oh, goodness, we'll talk about UFOs and the Flying Spaghetti Monster with carbon credits.
How does Madoff get $173,000,000 worth of checks in his desk drawer? We wonder if Robert Reuben and the Russian Mafia is upset.
Keep those old shoes, you're going to need to throw them at politicians.
British Telecom - all your communications are belong to us.
Tony Blair gets the Medal of Honor from George Bush. What? Who wants to design it?
John's in love with coal fires in the fireplace, Adam is honked. How do Al Gore and Ted Kennedy fit in?
Do the new light bulbs actually save the environment?
I want to be a pirate! (Of Somalia)
Adam's going to S. Africa. John claims the baboons run the place.
Phil Specter gets off, a hung jury. Oh, and the CIA killed John Lennon. Hmmm...
We're off to the bees, the weird bees. It's a bee consipiracy.
Aspartame and Ashcroft - another conspiricy theory, and what about Obama's new Monsanto guy?
The dumbing down of America and the digital TV switchover. Why? So we can have the traffic channel! And God TV!
Obama might be able to delay the switchover.