Summary
[
]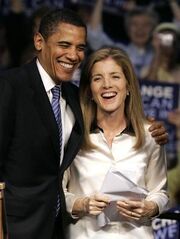 Episode for January 24, 2009
Show Notes
[
]
From Gitmo Nation East and West, where you may ask "What your government can do to you", it's time for No Agenda!
We'll start with public television, where the British "PBS" shows commercials and loses 100M pounds per year.
Without your TV license, the coppers can break, enter and seize your TV. This for the privelege of watching commercials.
Will the press eat Obama alive? So far, he's attempting to orchestrate his press conferences. The secrecy has begun.
What? No Lincoln Bible during the 2nd Obama swearing into office? Which is the real Obama?
Adam brings up the "UFO" photographed during the inauguration ceremony.
Oh, Good Grief! Tis' the Obama jingle mess.
Chocolate is at an all time high. Some of these new flavors are just weird. And don't forget the kids.
Seems that Obama is spending $100,000 to make over the private quarters in the White House. Change you can believe in.
More conspiracy theories, starting with Flight 1549 and the Kennedys.
Goodbye, Hillary Clinton.
Hello, Tom Swift.
One world government, and Obama. Oh, joy, one world big bad*ss bank. The Bank Of England to back it up? Har!
We discuss India vs. Pakistan, and what the American involvement might be.
Let's see, Obama says, "Our goal is to capture Bin Laden." Now, it's "Well, he's in a cave somewhere, so we win." What??
Off we go into discussions of left vs. right hand drive in the UK and other countries.
How about some old Top 40 radio? Let's remember those days and how some have morphed into today's netcasts.
Here's Dave Winer's review of JCD's thoughtful acting and crankiness. There are two types of journalists...